Digital Transformation Checklist for Tribal Organizations
Successful digital transformations require more than software upgrade.




They require organizational buy in, a culture willing to change, and technological know-how among staff. How ready is your tribal organization?
This guide will act as a self-test for you to gauge your organization's readiness level in regards to a digital transformation. You will be asked to give your organization a score based on 1 - 5 scale for different criteria. Based on the average score, we will provide recommendations on next steps.
The checklist will cover areas of the digital transformation such as:
Strategic Vision
Cultural Readiness
Technology Skills
Digital Capabilities
Strategic alignment
Technology assets
What is the next step in your digital transformation journey? Download your free digital transformation checklist to learn more.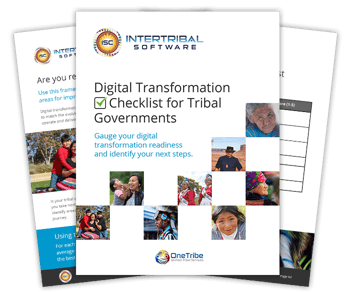 Fill out this form to receive your free guide!